Welcome to The Flying Barracuda LLC
Catering and BBQ company
Our mission, our goal, our passion is catering your event."Big Mike" will blend all the ingredients to insure that your event will be fun, distinctive, exciting, delicious, memorable and, most importantly, a great success!
We pride ourselves in unique and innovative cuisine for all occasions.
Our catering services range from classic wedding events to corporate luncheons/dinners to casual, country bbq's.
We are the "Best Small" catering company in the area, able to offer great food and service at very affordable pricing.
We have a variety of menus that will suit all of your corporate and social entertaining needs. We also custom tailor menus to your specific theme and budget.
We cater from 15 to 3,000 guests.
What we do: We bring the BBQ to you!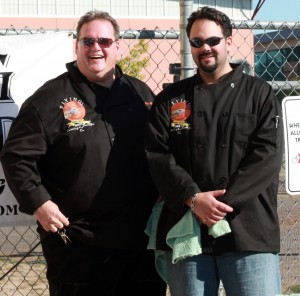 The Flying Barracuda BBQ Company, is a mobile, reliable, quality driven team with a passion for premier food at exciting places.
Whether your function is a wedding, business party, family reunion, or whatever, we have you covered in style.
From mouth watering bar-b-qued ribs, tri tip, prime rib to succulent desserts (that you'd probably sell your soul for) we'll make it happen for you from start to finish!
Normally we like to meet at the event location to help visualize your ideas and set up procedure, but an informal conversation at a location of your choice is fine with us.
Contact us to make arrangements for the specifics of your next function.